Hello! I'm Caylie Mindling, the artist, bookkeeper, project manager, dog walker, and cloud watcher behind Cayligraphy. I also have the absolute joy of getting to work alongside Erika in making up the other half of the faces that greet you when you come into The Olive Branch! If you've swung by in the past few months, you've probably seen my eyes crinkle at you behind my blue mask (I'm smiling, I promise).

I live in Wilmore with my husband and my adorably persnickety pup, Harper. Having always wanted to live in a city, I never thought I would like living in a small town, but I love walking to work and greeting friends along the way.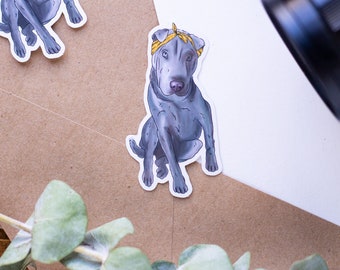 Cayligraphy started as a calligraphy (Caylie + calligraphy) and lettering hobby that largely consisted of filling pages and notebooks with hello, love, thank you, and random other words and phrases in swirly letters. Over time, I've returned a little more to my illustration roots, but I kept the moniker Cayligraphy since I had finally grown into my given name. Now, I get to do a wonderful combination of both lettering and illustration, sometimes mashing them together for some extra spice.

I create nature-inspired and Mother-lovin' art for rad humans who appreciate a well-placed pun, cover their possessions in stickers, send cards just because, and like their art to travel with them. To be frank, putting all that I do in one sentence is a difficult exercise. And that's what's fun about art! I get to play around and try wood burning or watercolor painting or underwater basket weaving. Because why not? My main muses are embodied in nature, my hilarious husband, my strange dog, and my close friends. I love to create pieces with specific friends and jokes in mind.

I believe that what we make matters, and how we make matters just as much. So, I plant a tree for every two stickers sold via my Love Your Mother program, print on recycled paper, produce my reusable bags in small batches, send my art in repurposed packaging, and am working toward becoming completely plastic neutral! Thus far, we (i.e. everyone who has ever bought a sticker from me) have planted 1,400 trees since April 2019 in 27 states and 12 countries. Rad, right?